Manager / Deputy Manager Sales Promotion Department
We expect from the candidate:
higher education,
skills to manage a team of employees (at least two years of experience in a similar position - preferred event industry, advertising agency or media house),
experience in cooperation with advertising agencies and media houses,
communication skills and ease in establishing relationships,
interpersonal and organizational skills,
creativity and courage in presenting your own ideas,
highly developed analytical skills and logical thinking,
design and implementation of advanced marketing campaigns using all existing communication channels,
the ability to obtain information, formulate conclusions and propose solutions,
the ability to set priorities and good organization of work,
the ability to work effectively in a group,
commitment and focus on achieving goals,
reliability and timeliness,
ability to work under time pressure.
Skills:
team management in the matrix work system,
preparation, development and implementation of strategies and plans of marketing and PR activities that will be implemented in order to effectively promote on Polish and foreign markets,
developing sales support materials - letters, press releases, articles, interviews, content for company presentations, mailings, creating industry reports,
building and maintaining contacts with the media, media monitoring,
building and testing the effectiveness of image and sales campaigns using analytical tools,
support for channels on Google, Facebook, Instagram, YouTube, LinkedIn in the field of user management, content generation, content publication and effective audience building,
shaping, developing and implementing internal digital tools,
cooperation with external suppliers - graphic designers, designers, interactive agencies, media houses (arrangements, negotiations),
full web analytics, including analysis of the presence and activities of competitors,
practical knowledge of tools at an advanced level: Google Analytics, Facebook Ads, Google Ads, Google Search Console, Google My Business,
creating campaigns using the above-mentioned tools and SEO optimization,
experience in preparing assumptions for websites (including: website functionality, graphic layout, UX, CX, CJ),
knowledge of working in at least one CMS,
knowledge of marketing and sales automation tools,
drawing conclusions from metrics, trends and accounting for campaign effects.
If:
you have experience in the areas indicated above,
you are a person focused on creation and creation,
you like working with people and for people,
you can divide your time into various design tasks,
you have experience in embedding your activities in business
this is the perfect job for you!
What will you gain, apart from stable work on a contract with a timely payment of remuneration?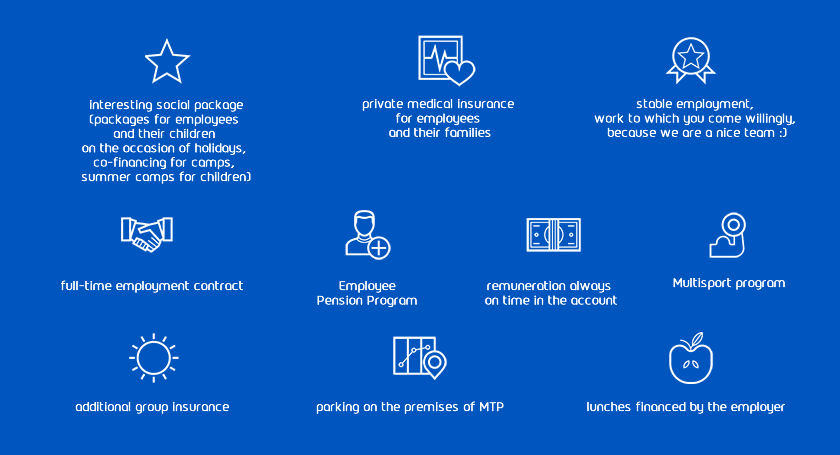 Sounds good? Send us your CV and portfolio!

Candidates interested in the recruitment process are asked to apply using the following recruitment form:


***
The administrator of personal data is Międzynarodowe Targi Poznańskie Sp. z o. o. with its seat in Poznań, ul. Głogowska 14. Personal data will be processed for the purposes related to the recruitment described above, until 3 months after the date of expiry of the recruitment advertisement on the pracuj.pl portal. Complaints and objections to the processing of personal data on the website should be reported by e-mail to the following e-mail address: iod
(Data Protection Officer). If necessary, the data may be made available only to entities cooperating with the Administrator for the purpose of recruitment. You have the right to access your data and request its rectification, deletion or limitation of processing, opposition to processing, withdrawal of consent or lodging a complaint to the supervisory body and the right to transfer personal data. We assure you that we make every effort to provide physical, technical and organizational measures to protect personal data against accidental or deliberate destruction, accidental loss, alteration, unauthorized disclosure, use or access, in accordance with all applicable regulations.