We offer you a parking area (approximately 1000 parking lots) located 350 meters from the exhibition grounds and guarded 24 hours a day. The parking services passenger cars, trucks, buses and large size vehicles (TIR).
For residents of Poznań and visitors, we offer two additional parking lots at ul. Grunwaldzka.
• Parking at the Spire - on the MTP grounds, opposite the Sheraton Hotel.
• Grunwaldzka car park opposite the Głos Wielkopolski office building
The car parks are open 24 hours a day, with the possibility of parking vehicles with LPG systems.
It is a convenient parking opportunity for both Poznań residents and visitors planning to take advantage of the nearby attractions.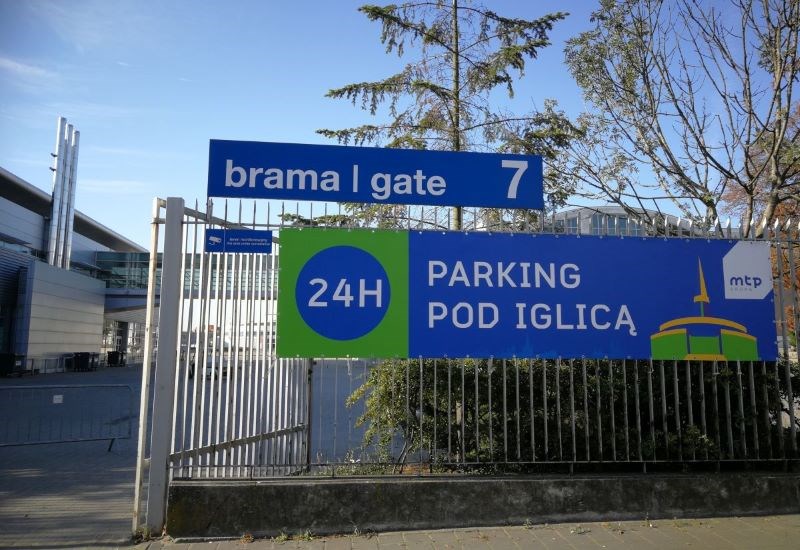 The entrance to the Parking lot under the Iglica is from ul. Grunwaldzka, right in front of the complex of pavilions 3 and 3A, crowned with a small historic spire. This is the last exit before the intersection with ul. Głogowska - entry gate No. 7 to the MTP grounds.
Check how to get to the Parking pod Iglica >>>
Subscription
• PLN 119 / month in a passenger car
• 190 PLN / month bus
Payment is accepted, in cash, with credit cards and vouchers.
BUY A VOUCHER for a TOILET
BUY A VOUCHER for a TOBILET