You are looking forward to Summer at the Fair 2018? So are we! Read the coverage of last year's edition of this event.
We will long remember the summer cinema on Thursday evenings. Under the patronage of GardenCity restaurants and SGB Bank (the last screening) eight sessions were held. Every meeting with a good film was topped with delicious snacks from GardenCity restaurants. On some evenings we had a chance to relax to the sound of music played by a DJ.
You also liked our themed Saturday events. This year most Saturdays had the form of urban festivals taking place under various slogans − "Poznan loses weight", "Do it yourself", "Saturday with history" − these are just some of them. For the first time on MTP fairgrounds children and adults could look for the exit of escape room and small archaeologists dug up the skeleton of a "real" dinosaur. The event "Summer RUN at the Fair" was attended by 100 people who became convinced that MTP fairgrounds are also an interesting area for running.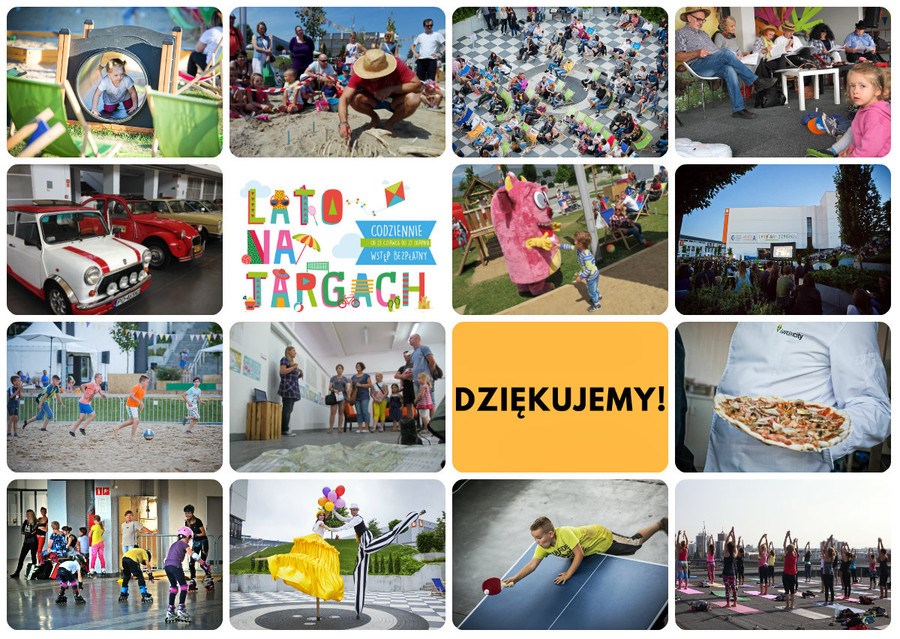 Speaking of sport, we should mention yoga and bodyart classes which took place in the unique scenery of the roof of Hall 15. Morning sun, exercise and the panorama of Poznan from the roof of the Hall of Earth are the views which many of you will carry with you for a long time! Kamagon ball, or exercise with balls filled with water, had its premiere during "Summer at the Fair". In turn, Zumba to latino rhythms bled the participants dry.
Activities known from previous years were also very popular. You enjoyed roller blading, playing ping pong, football and volleyball. Your children liked our entertainers − every day in a different styling − and willingly spent time with them on the beach and playground. We organised bookcrossing in the South Hall throughout the summer. MTP fairgrounds were also the meeting place for fans of board games who could rent their favorite games.
We are glad that you were our guests! See you next year!
We thank our partners and sponsors without whom "Summer at the Fair" would not be a success!
We miss the beach, the fountains and a crowd of children in front of Hall 15. The next edition of "Summer at the Fair" is behind us! Thank you for being with us for almost the entire holiday and so eagerly participated in all the events. This year we were visited by about 18 thousand people!