Golden Marketing Conference Poznań
9/8/2020 9:40:11 AM
One of the most important conference in the field of marketing is approaching. With the participation of a special guest - Jurek Owsiak, the creator of the most recognizable brand in Poland, Wielka Orkiestra Świątecznej Pomocy - this is the event not to be missed.
Jerzy Owsiak will come to Poznań on September 14 on invitation of Grupa MTP - the organizer of the Golden Marketing Conference, to give a presentation entitled "Brand image building and team building on the basis of Wielka Orkiestra Świątecznej Pomocy and the Pol'and'Rock Festival".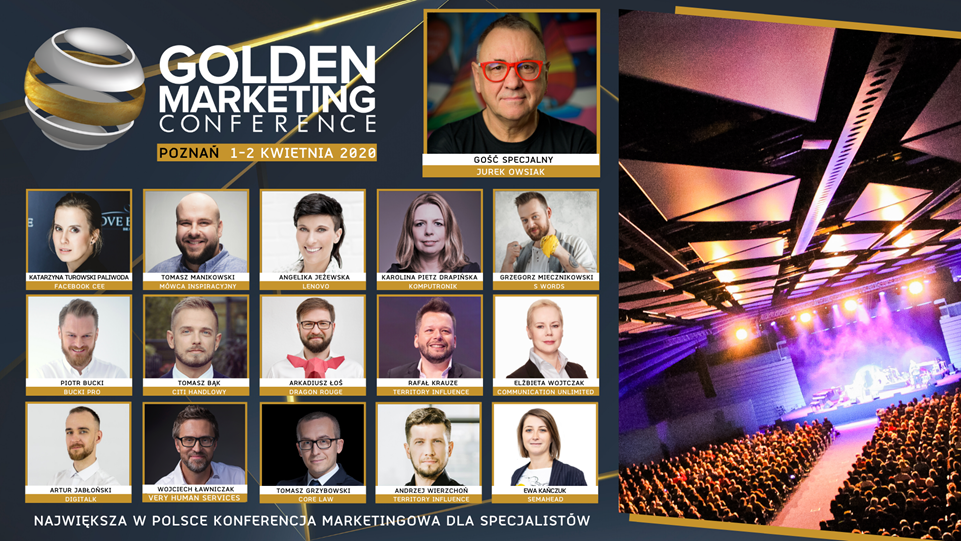 Golden Marketing Conference is a two-day event addressed to Top Management - board members, marketing directors, decision makers in the field of brand development strategies, public relations specialists and entrepreneurs. The conference organizer has a clearly defined goal - to provide as much substantive content as possible and prepare the marketing market for the upcoming changes. A special formula based on long lectures and a unique selection of speakers made of outstanding experts and marketing directors of the largest international brands creates a breakthrough event for the marketing industry with huge business potential.
The 8th edition of the event will take place on September 14-15, where the speakers will present trends in social media (Facebook, LinkedIn, YouTube), Google Ads, CSR activities, e-commerce, omnichannel and will present new marketing tools that test the largest brands.

From the stage, lectures will be given by: Katarzyna Turowski Paliwoda, Head of Business, CEE Facebook, Jarosław Bednarczyk, Sales Manager CEE, Google, Angelika Jeżewska, Brand Manager at Lenovo Polska, Tomasz Bąk, Marketing Director at Citi Handlowy, Piotr Bucki, Tomasz Manikowski, Artur Jabłoński, Marcin Sokołowski, Head of Business, Sharebee, Jakub Garstka, The Idea Man, Mobile Vikings and Maciej Mazur, PSPA Managing Director.
Detailed information on the Golden Marketing Conference and tickets are available at: https://goldenmarketing.pl/poznan/.
We also encourage you to watch the video report from last year's edition: YouTube
>> BUY A Ticket <<