Hillary Clinton as the special guest of Impact'21 at the MTP Poznań Expo
This year's edition of Impact, one of the largest economic conferences in Poland will be held on 26 and 27 October at the premises of the MTP Poznań Expo. Every year the event is attended by foreign guests, managers representing global brands and senior officials. Former Secretary of State and New York State Senator, Hillary Clinton, will deliver a keynote address at the conference hosted by Grupa MTP.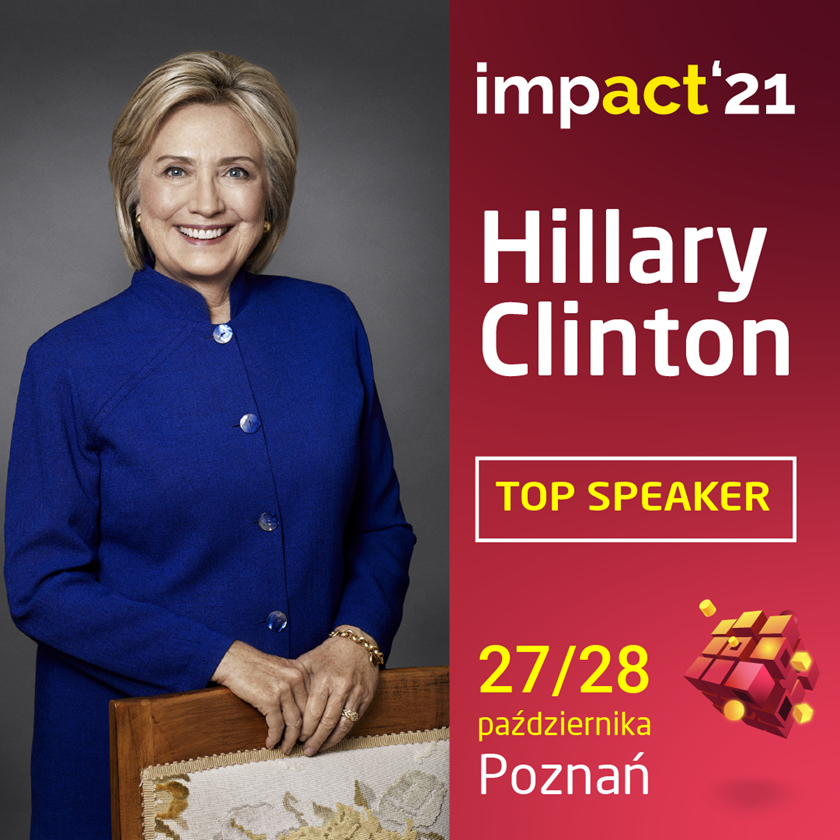 Impact is moving to the capital of Wielkopolska after two seasons of hybrid presence in Warsaw. The two-day conference, organised on the premises of the MTP Poznań Expo, will take place on four stages with over four hundred speakers in sixteen thematic areas. Hillary Rodham Clinton, former Secretary of State and New York State Senator, First Lady of the United States and candidate for the President of the United States in 2016, will be a special guest at the event.
- Grupa MTP is the organiser and host of many conferences and meetings attended by international guests, therefore we are pleased that Hillary Clinton will expand this group. Her lecture prepared for the audience gathered at the MTP Poznań Expo proves that there is no better place in this part of Europe for meetings of politics, business and science. We can expect a lot of emotions and speeches which will stay in our memories for a long time - announces Tomasz Kobierski, Chairman of the Board Directors in Grupa MTP.
Hillary Clinton will connect online with the audience gathered at the Poznań Congress Center on October 27 at 11:00. In addition to the talk by the former Secretary of State and New York State Senator, the themes of this year's Impact'21 will focus on global trends related to green deal, energy transition, e-commerce development, open banking and women empowerment.
Impact has been one of the largest and most important economic and technological events in Central and Eastern Europe since 2016. Many prestigious projects were announced during the event, including the launch of the Start in Poland programme, the premiere of GovTech Poland or the National Recovery Plan. The event is organised in a hybrid formula. It will be broadcast by Wirtualna Polska, money.pl and on the Impact online platform.
More about the event at: www.impactcee.com