Almost five thousand dogs representing 250 breeds - and popular ones, such as Jack Russel Terrier, English Cocker Spaniel or Golden Retriever - and less visible on Polish streets, such as Komondor, Thai Ridgeback or Bedlington Terrier, will be presented at the exhibitions.
Who will be nominated for Crufts, the world's largest dog show, and who will be the Polish Winner? The answers will come from two International Dog Shows, which will take place this weekend at the Poznań International Fair.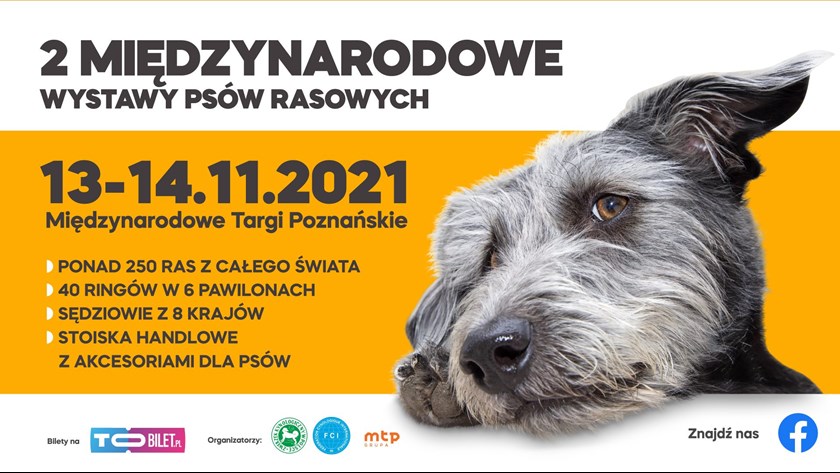 The dogs will be presented in as many as 40 rings, and they will be judged by an international group of judges. Saturday's show will select the dogs that will go to Crufts 2022.
This is an event organized by the British Kennel Club, which takes place in Birmingham in March. It is the largest and most famous exhibition of purebred dogs in the world. On Sunday, the Winner of Poland 2021 will be selected.
Poznań exhibitions are an ideal event for people who are looking for a purebred dog. You will be able to talk with breeders, find out about the requirements of a given breed and see the animals from their breeding.
The exhibitions will be accompanied by a fair where you can buy food and treats, lairs, leashes, collars, toys, clothes, cosmetics and other articles. Two International Dog Shows are held on November 13-14 this year. in hours 10: 00-18: 00 at the Poznań International Fair (pavilions: 3, 4, 5 and 6).
Entrance from ul. Bukowska or through the Eastern Hall (ul. Głogowska).
Tickets are available on the website ToBilet.pl