Poznań Moto Fest on the last weekend of June!
6/24/2020 1:21:00 PM
A motoring event full of excitement and a lot of fun for fans of Poznań Motor Show, which you just cannot not miss. More than 200 cars, motorcycles, campers and much more.
As previously announced motoring events return to the MTP Poznan Expo fairgrounds. Poznan Moto Fest is a new event in the calendar of events organised by Grupa MTP. This automotive picnic forming part of a joint campaign of Grupa MTP, the City of Poznan, and local companies and institutions called #WracamyDoGry (Back in the Game). For two days, on the MTP Poznań Expo fairgrounds there will be a rich exhibition featuring more than 200 unique vehicles, including cars, motorcycles and campers.
Automotive fans will be able to enjoy both modern sports cars and classic antique models. It is expected to attract more than 50 super-cars and collector vehicles. The visitors will also see novelties presented by leading car dealers and car tuning companies in Poznań. Fans of two-wheelers, in turn, will be able to admire motorcycle stunt shows. And on top of that there will be numerous attractions for the whole family, as well as fun and activities for children.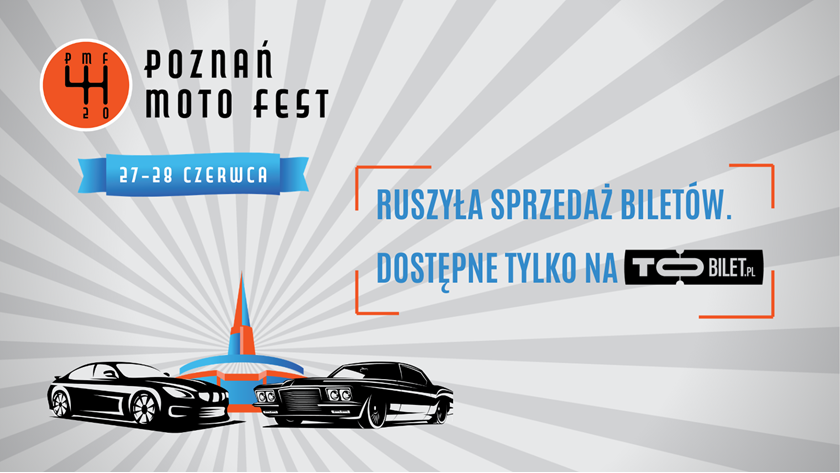 Things to do at Poznań Moto Fest
the.collection as the special guest of Poznań Moto Fest!
The known collector of cars from Poznan will be the special guest at Poznań Moto Fest. Meanwhile, the presence of the.collection is announced on the atypical box placed in front of the east hall on MTP Poznań Expo fairgrounds. During Poznań Moto Fest, the.collection will appear in a specially prepared zone with a group of friends. Visitors will be able to see a large part of his collection.
More about the.collection and the box with a car
Positive Ways
On the last weekend of June, MTP Poznań Expo will be visited by a large group of collectors who will present their exclusive cars. Among them will be the team Positive Ways. On Sunday, June 28 in the zone prepared by them, you will see more than 30 vehicles of brands such as BMW, Porsche, Lamborghini and Ferrari.
Full list of cars from Positive Ways
Corsa-e, which is a novelty with a capital "N" at Poznań Moto Fest
The new electric vehicle from Opel will be unveiled in the zone prepared by the company Szpot. It is not the only Poznan car dealer to present its offer on MTP Poznań Expo fairgrounds.
Dealers at PMF: POL-CAR
The zone of Poznan's leading auto dealers is one of many attractions at Poznań Moto Fest. The event could not do without POL-CAR, which during the June event will showcase car brands such as Alfa Romeo, Jeep and Fiat. 
More about the POL-CAR zone at Poznan Moto Fest
Kia and Seat models in the POL-CAR zone
Sports cars from Adam Rzepecki at Poznań Moto Fest
Adam Rzepecki, driver in the BASENHURT A&T RACING TEAM has been taking part in motor racing for 8 years. During Poznań Moto Fest you will be able to see two unusual racing cars, which BASENHURT A&T RACING TEAM has in its collection − Mitsubishi Lancer Evolution VIII and Renault Clio IV RS CUP.
More on the exhibition by Adam Rzepecki
Even more racing vehicles
Kamena Racing Team is a racing team whose strength lies in − Tomasz Białkowski (driver) and Dariusz Baśkiewicz (pilot). Their zone will feature three vehicles. In addition to racing cars which the team uses every day (two versions of Can-Am Maverick X3), there will also Cadillac Escadale.
Aautomotive classics
92-year-old, presented for the first time, the only such specimen. Fans of classical models can rub their hands. The original Rolls-Royce Phantom 1927 will appear at Poznan Moto Fest. And this is not the only historic car which this weekend will visit the fair.
More about the first model of Rolls-Royce Phantom
Look Around The Globe at Poznań Moto Fest
What is it like to cross 5 continents on a motorcycle? The motorcycle duo Marta and Łukasz, travellers, motoring fans and the creators of the popular blog Look Around The Globe, will talk about this in their zone at Poznań Moto Fest.
More about travelling motorcyclists
Tickets to Poznań Moto Fest
You can already buy tickets for Poznań Moto Fest. Tickets for the upcoming event are only available on the platform ToBilet.pl. What is important, this is the only way to get tickets. On the day of the event, tickets will not be available at the ticket offices on MTP Poznań Expo fairgrounds.
Both in the case of tickets for Saturday and Sunday the ticket price is PLN 13. On the first day the exhibition will be open to visitors from 10:00 to 17:00, while on Sunday the event will be shorter (10:00-16:00).
Tickets are available at this link.