The smell of mulled wine and local specialities floating in the air, music, beautiful decorations and lots of attractions. Fly to Poznań and feel the magic of Christmas!
This year, as many as four Christmas markets will be held in Poznań, while the Poznań Christmas Market on the grounds of MTP Poznań Expo will be the largest of them.  The Mill Wheel, the ice rink, snow tubing, the Venetian carousel, the Santa Claus sleigh flight simulator...  Do you feel encouraged?
Winter city-break
From 19 November to 23 December, the Christmas wonderland will be located in the heart of Poznań, bringing everyone into a magical Christmas atmosphere. The Poznań Christmas Market is the perfect plan for a winter city-break. Every weekend a different programme of attractions will await visitors. Theatre performances, concerts, meetings with Santa Claus, workshops or the Poznań Ice Festival.
This year, the international competition of ice sculpture masters will take place from 9 to 11 December. This is a unique opportunity to watch live the creation of unique ice sculptures. The event is attended by the most talented artists and world champions in ice sculpture. During the three-day event, sculptors using several tonnes of ice will enchant inhabitants and tourists with an extraordinary show of frosty works of art. Learn more
Exceptional taste of local cuisine
The Poznań Christmas Market is also the opportunity to taste the specialties of Polish cuisine. Bigos (hunter's stew, pierogi (dumplings), pyra z gzikiem (potatoes with cottage cheese) or barszcz (beetroot soup) are delicious, warming dishes - perfect for the winter time. On top of that, the world-famous local sweets will make you feel like staying in Poznan for longer!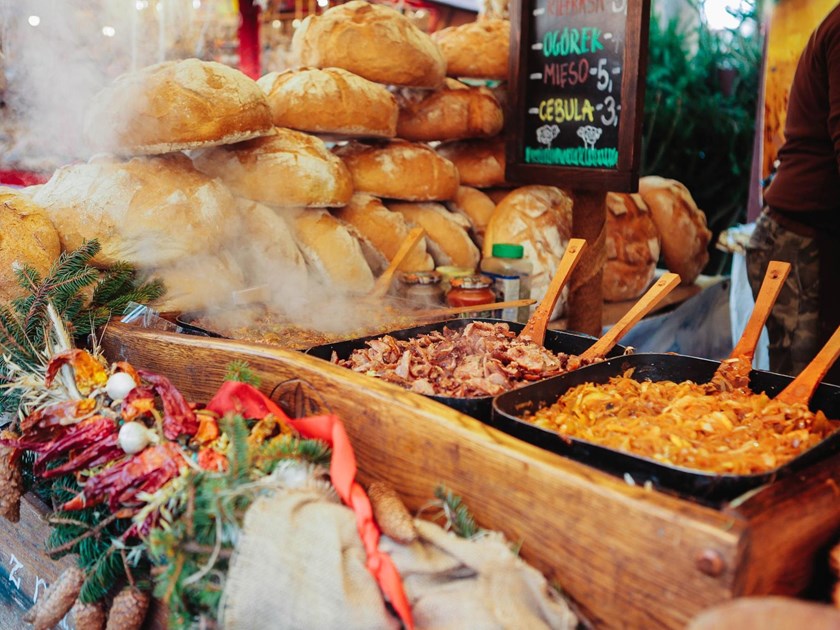 During the market you will also be able to purchase limited edition bottled mulled wine. It is the perfect way to take home the taste and smell of the Poznań Christmas Market. It's also a great idea for a gift from Poznań!
Surprise your loved ones
Talking of gifts. Do you get goose pimples when thinking about crowded shopping centres? You are not keen on standard presents? Then visit the Poznań Christmas Market! For those looking for unique gifts, the best date will be between 2 and 4 December. In addition to dozens of exhibitors' stands, MTP Poznań Expo will host the Festival of Art and Artistic Objects. This is an opportunity to buy unique items directly from artists and craftspeople and also a chance to create your own gift, under the guidance of specialists. Check the details
Don't wait, buy a ticket to Poznań and allow yourself to be enchanted during the Poznań Christmas Market!
Poznań Christmas Market
19 November - 23 December 2022, MTP Poznań Expo
Enea is the strategic partner of the event.
Learn more jarmark.poznan.pl