Yuval Harari at Impact'22 in Poznań!
Yuval Harari, author of the world bestseller "Sapiens – A Brief History of Humankind", will open Impact'22 in Poland – the most important technological and economic event in Europe.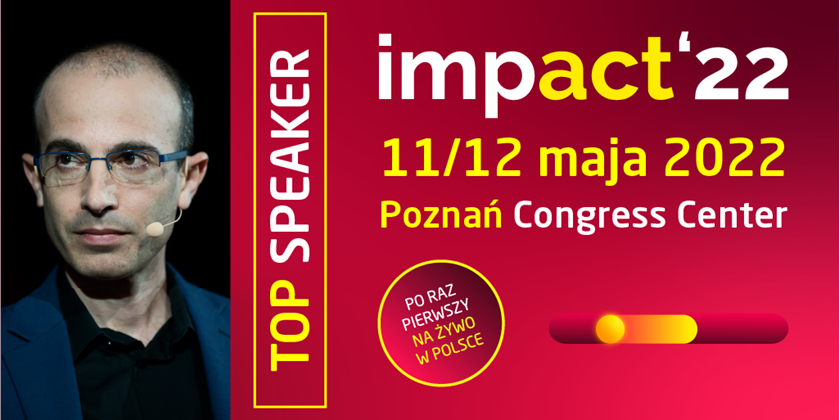 The last two years was a time of great challenges for the whole world. Pandemics forced the global economy, business and science to constantly search for new solutions and ways to shape our reality. Innovation, planning and predicting trends are difficult today, but it is also a great challenge. Access to the latest knowledge and world's best practices is, at this particular time, more important than ever. Therefore, Impact provides a special platform to exchange the greatest know-how.
Impact is a place that indicates trends, directions of changes and development. The conference creates a trusted environment where speakers and participants create our future. It's one of the most important and largest technological and economic event in Central and Eastern Europe in recent years. It is a unique place where business, science, new technologies and politics come together.
In the upcoming Impact'22 over 400 speakers will debate and share their conclusions on five stages around 18 thematic areas. This year's edition will take place in May 11-12th at the Poznań Congress Center. The global representatives from top companies such as Mastercard, Google, Microsoft, Allegro, Dell Technologies, IKEA and Uber have already confirmed their participation.
Previous Impact editions were a great opportunity to meet special guests such as Hillary Clinton, prime minister Mateusz Morawiecki, Adam Niedzielski, Natalia Hatalska, prof. Lidia Morawska and Anna Lewandowska. And it will not be any different this time around.
One of the most important speakers of the spring Impact edition will be prof. Yuval Noah Harari. This Israeli historian, philosopher, thinker and writer is one of the world's most outstanding visionaries and predictors of global change. His books "sapiens", "Homo Deus", "21 Lessons for the 21st century" and "Sapiens: A Graphic History" have become international bestsellers and have made the university historian quickly become a world famous speaker. Sold in over 35 million copies, Yuval Noah Harari's bestsellers have been translated into 65 languages so far. The writer also discusses global problems with the greatest leaders of the modern world such as Angela Merkel and Emmanuel Macron, but also Mark Zuckerberg, with whom Harari talked about the future of society in the social media era.
Another special guest announced for the spring Impact edition will be prof. Erin Meyer. For years, Meyer has been analyzing and solving problems related to the complexity of worldwide cultural differences faced by managers of global corporations. She helps companies to develop new organizational rules that bring flexibility, innovation and prepares cutting-edge strategies to improve project efficiency around the world. Erin Mayer has trained thousands of managers on all continents. She taught them to understand the intercultural complexities and differences that affect the success and work efficiency. Today Meyer delivers inaugural lectures and seminars for the biggest global organizations such as the United Nations, Google, Johnson & Johnson, Twitter, Michelin, Deutsche Bank, ExxonMobil and Novo Nordisk.
Traditionally, beyond an exceptional group of speakers, Impact offers many accompanying events which will also take place during the Impact'22. This year's edition includes round tables, seminaries with Erin Meyer, networking dinners, cocktails and much more.